Austin's real estate market had less monthly activity but high annual growth in November. New reforms by City Council could improve the housing shortage within 2-years. If they do, prices might plateau once we reach 4-months' inventory.
November's average sales price grew 23% year-over-year to $717K. The median price of a home was almost $568K, 24% higher than last year. The number of active listings dropped 27% to 1,130 last month. Meanwhile, pending sales fell 13% to 1,247. Slower activity is typical during the holidays because fewer homes are for sale. Even so, November's paltry 1,013 new listings were not enough to meet surging demand. Expect worse news for December, with only 284 new listings so far.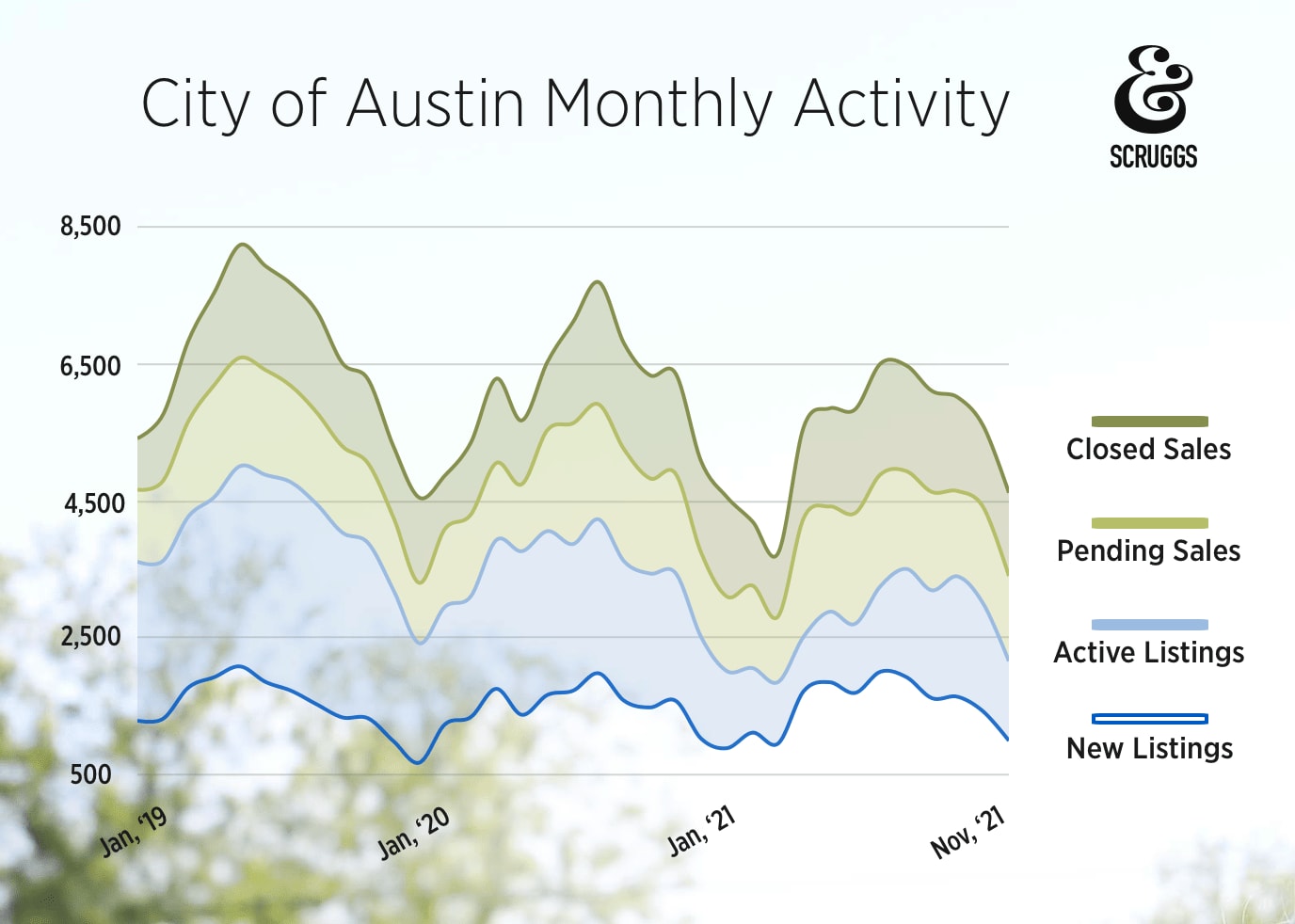 Unprecedented interest in Austin pulled housing inventory down to 0.8 months' supply in November. Austin was named the no.1 commercial real estate market for foreign investment in May. Several Austin tech announcements followed. Last month, a global finance report pinpointed Austin as the no. 1 place to move in the world. Then Samsung announced a new $17 billion fab site in nearby Taylor, TX. It's fair to say Zillow was correct when they predicted Austin would be the hottest market in 2021.
At $10.39 billion, November's year-to-date sales volume was up $2.5 billion year-over-year. The year-to-date number of closed sales was only up 3% from last year. So, we can blame the rising cost of housing for the extra 31.5% in sales volume.
The biggest question on everyone's mind is, "When will it end?"
Austin's City Council has been trying to improve housing supply and affordability since 2012. The city spent $8 million writing new land development code over the last several years. A recent court ruling shot down any chance of implementing that code. But the city still plans to create 135,000 new homes by 2028.
One part of the plan is to build inward. City Council hopes to loosen ADU restrictions to promote residential infill in single-family neighborhoods. They also called for looser granny-flat rules and more garage apartments.
Building upward is another part of the plan. Council wants to raise the max building height in high-density residential areas by 30-feet. They also proposed a dozen other changes to build up in Austin. These include a 275-foot mixed-use tower near the Gigafactory and another high-rise South of the river.
Adding density may hurt affordability as property values and taxes go up. Values for property zoned SF-1, SF-2, and MF-6 will see the sharpest climb. (See "existing zoning" for a map of these properties.) A $277 million development on the South shore may also boost Bouldin, Travis Heights, and Downtown home values. The proposal calls to increase the South shore property value by 879%. (See Section 10, "Appraised Value".) Five hundred thirty affordable housing units are also part of the plan.
The city seeks to address excessive appreciation by lowering construction costs. Step one is to allow residential uses on commercial property. A 2020 study out of California supports the efficacy of this change. Council may also offer programs to help people who are at risk for displacement add rental units (specifically ADUs) to their property. The idea is to use rental income to pay property taxes. (Never mind that an ADU adds to the owner's tax bill whether it earns income or not.) The city's program would lower ADU construction costs, expedite permitting, and offer financing plans.
So, when will prices stop "skyrocketing"?
It could take months or years for City Council's proposals to become policy if they ever do. Once implemented, smaller homes and "granny flats" will take 3-6 months to build. The soonest these new dwellings could affect inventory is Fall 2022. Still, they will speed up appreciation rather than slow it down. Large housing projects and commercial conversions take a year or more to construct. Those developments could improve supply as soon as 2023. If they produce at least 4 to 6 months' supply, then prices may finally plateau.
The speed of Austin's policy changes will determine how soon the crisis ends. Other factors include foreclosures, interest rates, and Austin's wildcard, Elon Musk. Austin's foreclosures are declining for now. Buyers could get discouraged by three potential 0.25% interest rate hikes in 2022. Elon's recent sale of Tesla stock made the news but didn't affect Austin real estate.
For now, expect low inventory until new listings pick up in February. Then, another surge in prices will likely follow in the spring.