November's real estate market offered relief for Austin homebuyers. The average sales price last month showed a $32,800 decrease, landing at $584K. Still, sellers in Austin enjoyed astounding profits as the average grew $96,200 in one year. The median sales price was $458K last month, $2K lower than October but $53K higher year-over-year. If you're considering selling in Austin, .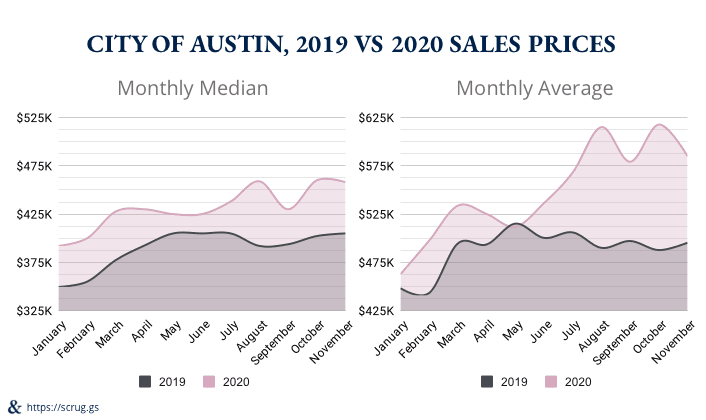 Austin buyers faced fewer options last month as only 1,050 new listings came to market. New listings dropped 34.5% from October while last year they dropped 25% in the same period. As we close out the year, this drop will restrict real estate sales while keeping inventory low. In November, months of inventory fell from 1.24 to 0.89. Less than 1 month of inventory means more homes are being sold than listed!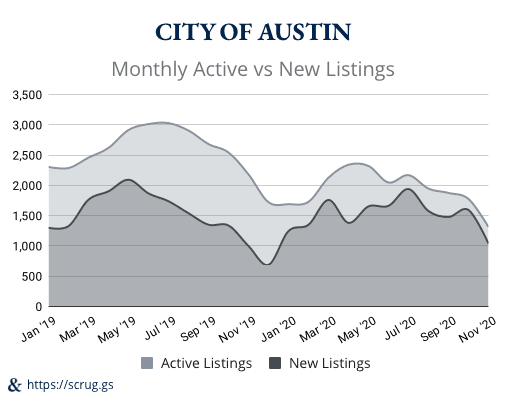 Hundreds of Austinites found new homes last month despite the lack of supply. If your home search is falling short, consider for better results. Austin had 1,280 pending sales and 1,230 closed sales in November. Pending sales dropped 13% last month while closings dropped 14.5%. Both of these decreases are normal for the season.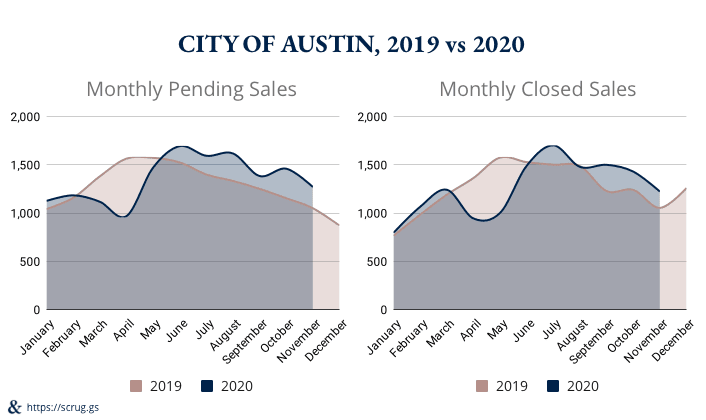 November saw a year-over-year increase of 4% for new listings, 21% for pending sales, and 16% for closings. In October, the . Don't believe the hype. These increases are a trend caused by the pandemic that you can read about in .

The best way to see if the Austin real estate market improved this year is to compare the 2019 and 2020 year-to-date stats. For November, year-to-date new listings fell 3.1% while closed sales fell 0.3% compared to the same time last year. There were 3.2% more pending sales year-to-date compared to last year.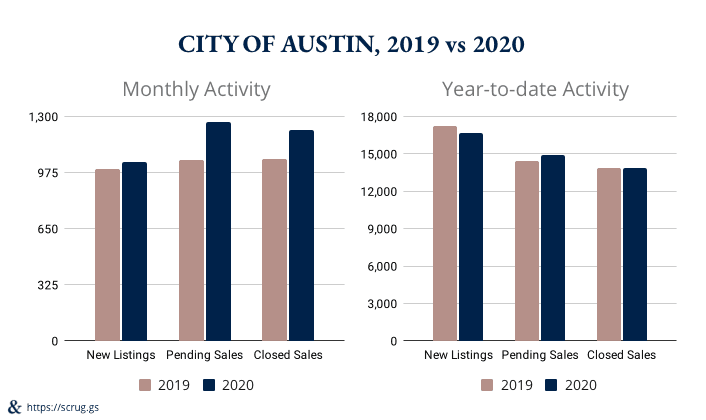 Sales might match those of 2019 by the end of the year, but 2020 did not keep up with growing demand. The real estate market will be more active than usual this December but expect Austin inventory to remain low. If you're not working with us, you are basing your real estate decisions on incomplete data. Our clients get up-to-the-minute neighborhood stats that no other agents have. We offer the most informed advice and estimates in Austin, free of any obligation. today, or connect with us on and .

About this report: A bug on the Austin real estate board website brought some exciting news this month. The bug kept us from downloading market data for our October report, so we built our own database of stats. Now, you get our market report weeks before any other news source in Austin. Our reporting area changed from the City of Austin census area to all residential real estate with an Austin address. Stats may adjust a little as data rolls in late. They will be close enough to show the trends that matter most to buying and selling in Austin. If you love our real estate insights, please consider or .