Austin real estate continued to appreciate while listings and sales sank.
The stay at home order came late enough in March that we didn't see the real effect on market activity until April. Still, homes appreciated 11% YoY and 2% since March. In general, buyers were timid. Those who moved forward on transactions did so at record speed.
Pending sales this April were 12% lower than last year. New listings dropped 16% for April, where last year we saw a 9% increase.
In 2019, March shopping activity incited a 14% increase in April sales. This year, everyone stayed home. Potential buyer activity took a nosedive this March, resulting in a 33% drop in April home sales.
March and April sales numbers show that many buyers are shy in spite of low interest rates. April's average days on market reveals that those who are buying act fast.
Austin homes were on the market for an average of 22 days in April. This is very low! I couldn't find any month in Austin history where average days on market fell below 30-days.
Motivated buyers and sellers drove April's 22-day average days on market. And they worked with experienced real estate teams to broker the deals.
Recall that in February, we had one of the most extreme seller's markets Austin has ever seen. Those market conditions are helping Austin home values climb through the shutdown.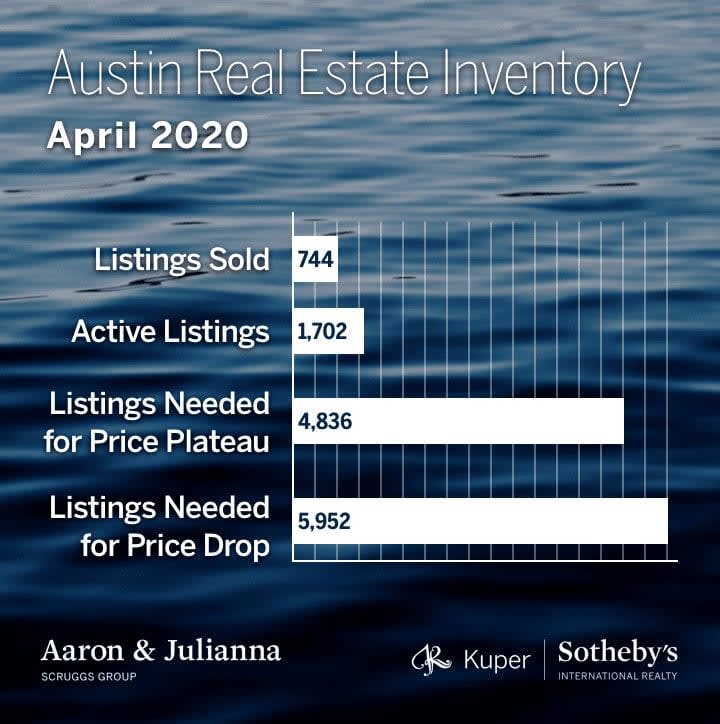 Prices could have flatlined in April had there been 4,836 listings. The number of listings was far below that so prices continued to rise.

Monthly housing inventory is an indicator for whether housing prices will go up or down. In April, Austin had 1.6 months of inventory. That's 0.1 months less than April last year. Fewer closed and pending sales boosted the housing inventory, but not by much. That's because all market activity, including new listings, went down in April. Inventory would have gone up more if many homes were listed and buying activity was low. Instead, few homes were listed and few were sold. Inventory only went up a little bit so we're still in a seller's market. If listing and closing rates remained the same, home values could flatline in 8 months. If one thing's for certain, it's that change is in the wind.
What can the data tell buyers and sellers about what to do next?

The name of the game is "take action". It's a strategy game with client goals as the objective. It's especially important to have an experienced professional represent your best interests in this environment. If you need guidance with any aspect of homeownership, we're here to help you get the best possible outcome.