Tomorrow, Austin home sale data for December will hit the shelves of local news sources. You'll read that December had 902 new listings, 1,390 Austin home sales, and 1,110 pending sales. Inventory hit another record low with just 0.66 months' supply for December. So, Austin's average home sales price went up $116,275 year-over-year to $637,873. The median up $80,651 year-over-year to $477,501.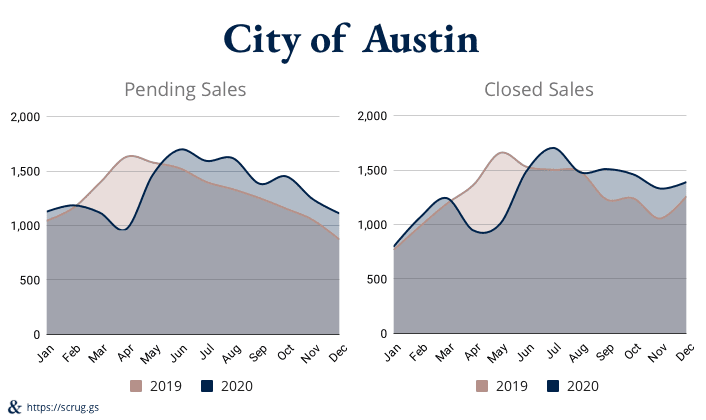 Austin continues to have very few homes for sale. December had only 969 active listings – the fewest in over 30-years. As of today, the City of Austin has 783 homes actively listed for sale. December averaged only 29 new listings per day. A week ago, January averaged a miserable 7 new listings per day. Since then, we've averaged 64 new listings per day. If we keep up at this rate for the rest of the month, January will have 50% more new listings than December.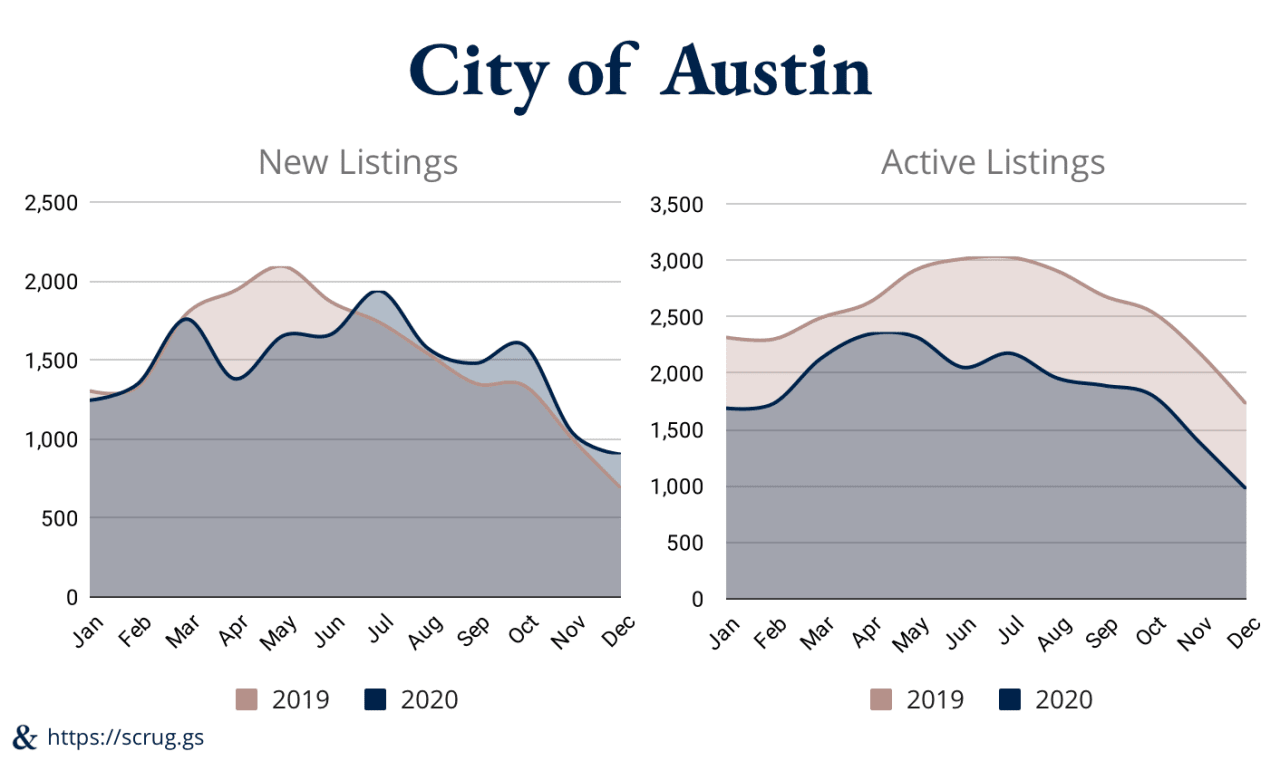 In December, the average price per square foot rose 19.7% year-over-year to $311/sq. ft. and the median rose 21.6% to $268/sq. ft. This was a 9% monthly increase for both the average and median. It was the highest increase monthly increase for all of 2020. January's average has not changed yet but the median went up 2%. Meanwhile, prices for the homes that are selling is actually lower in January. So far this month, the average sales price dropped 8% or $51,839, and the median dropped 1.5% or $7,501.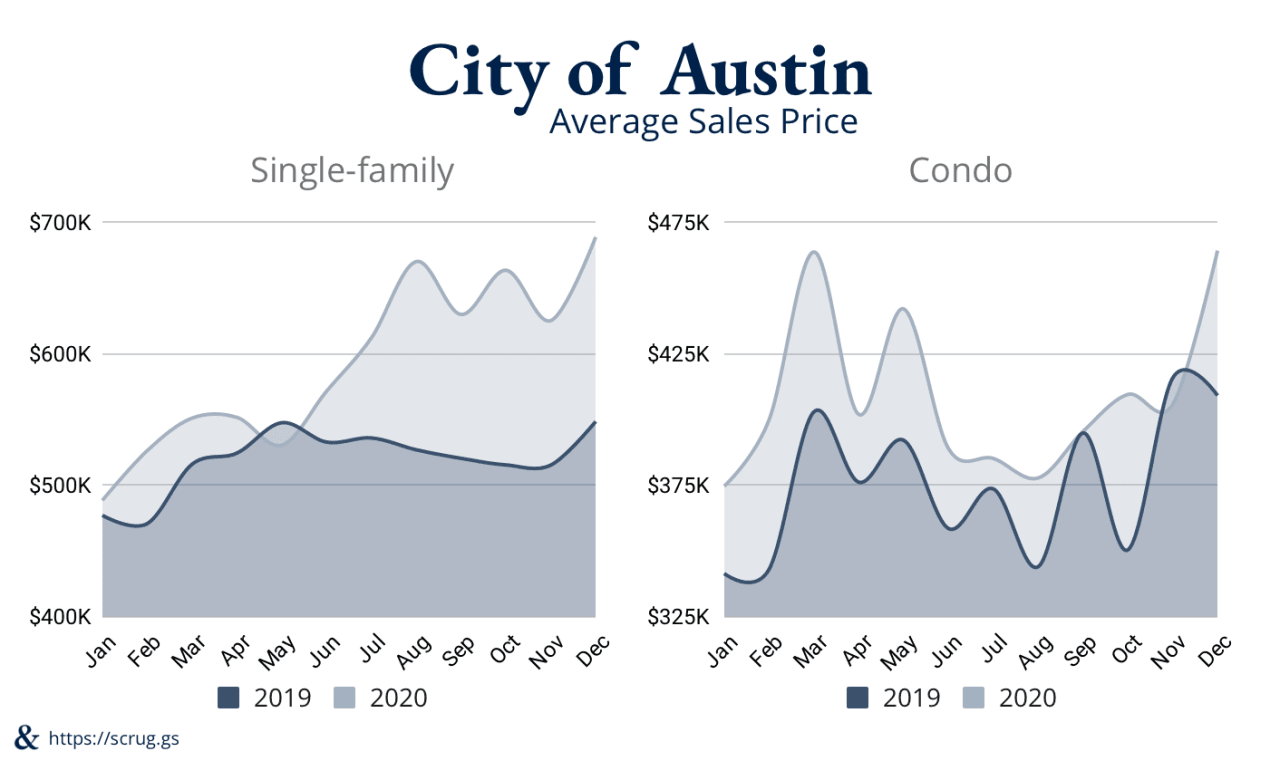 How Can Sales Prices Go Down When Cost Per Square Foot Is Going Up?
Before 2008, when cost per square foot went up, buyers turned to lenders for more purchasing power. Prices inflated and the market crashed. Lenders are more regulated now. So, when cost per square foot goes up, buyers have to adjust their expectations and buy a smaller home. A smaller home might have a smaller price tag than a bigger one even if cost per square foot is high.
Here Are the Three Main Factors Driving Austin's Housing Inventory Crisis.
1. Real estate is an attractive investment since the pandemic.
Low interest rates help people buy their first home or move up in the market. Interest rates are the. Also, since the pandemic, many investors think the stock market is volatile but real estate is not. So, buying a home has never been more popular.
2. Austin is the most popular place to buy in the US.
According to a, Austin is the #1 residential real estate market in the US. COVID-19 is allowing remote employees to achieve a better quality of life by moving to Austin. News of moving to Texas has put Austin in the spotlight for investors. Meanwhile, local first-time buyers are afraid of being priced out of Austin if they don't buy soon. There are very few resales available, and we can't build fast enough to meet the demand.
Still, we continue to get our buyers under contract in all different price ranges. The trick is to identify your buyer's unique advantage and use it to negotiate their purchase. We develop strategies to mitigate disadvantages, too. Most buyers can achieve their top desires in any market, even now.
3. Selling during a pandemic is challenging.
School cancellations and strained work conditions make it hard to sell during a pandemic. Getting top dollar for your home without getting COVID-19 requires digital marketing skills. Most of the industry is ill-equipped for the job but some brokers are adapting. (Sotheby's Realty hired at the beginning of the pandemic for our digital marketing expertise.)
Another big concern is not ending up homeless after you sell. Leasebacks and companies like can help sellers transition into their next home. We also see a lot of deals fall through right now. The most common issue is that prices are going up faster than appraised values. We can protect our sellers by negotiating full appraisal and option period waivers.
What We Are Experiencing Right Now Has Never Happened Before.
So, we asked former Chief Economist for the Real Estate Center at Texas A&M, , how he thinks 2021 will play out. He said interest rates could creep up 1% as the economy recovers this year. Though home prices are spiking now, they could flatline when interest rates cause inventory to go up. Still, Dr Dotzour recently bought two single-family investment homes for himself.
If you are thinking of buying or selling, it's important to build a relationship with an advisor you trust. We help local and out of town clients achieve their Austin real estate goals at the highest level. Follow & on social media for more Austin real estate news and guidance. Give us a call at for help with your Austin real estate needs.