To clarify , the pandemic is not to blame for the rising cost of housing. May's 10.75% YoY increase in median sales price is the result of supply and demand. Homes appreciated at the same pace as the rest of the year and had very low average days on market. That's because we had only 1.7 months of housing inventory. Home values will continue to rise unless we reach 6.5 months of inventory. Prices will not decline until we have 8 to 10 months of inventory. This is how the principle of supply and demand typically behaves in the Austin housing market.
How has the pandemic affected recent market trends? The pandemic is to blame for a major drop in buying and selling activity. Sales volume dropped 50% YoY in May. We sold $418.4MM worth of homes, which is $209MM less than May last year.
Last month we said, if one thing is for certain it's that change is in the wind. While the past is not always indicative of the future, we still believe that change is coming in real estate.
What Changed in May, What Stayed the Same, and What's Next?

The market showed signs of recovery as Austin began reopening. We saw a 13% monthly increase in listings and a 43% monthly increase in pending sales. Residential real estate is a seasonal business, so let's compare these statistics to last year. Between April and May of 2019, listings stayed the same, and pending sales dropped 11%. This YoY comparison reveals an unusual monthly increase in listings, and a highly-irregular increase in pending sales. The extreme bounce-back on pending sales was spurred by pent up demand.
Buyers are still acting as fast as they can, as indicated by homes sitting on the market for an average of just 28 average days . This marks the second-lowest average days on market, surpassed only by April which had 22 days on market.
If you're looking to sell then price appropriately and your dreams will quickly come true. If you're buying, expect the lending process to be your biggest slowdown. To counteract this, one of your first steps should be getting pre-approved by a trusted lender. If you need a referral, send us a message. We're happy to help.
When the June stats are released a month from now, we'll see continued growth in pending sales for the first half of June. It is anyone's guess how the recent spike in confirmed COVID cases will affect buyer behavior going forward.
We know that the market tends to slow down at the beginning of the school year. With that being just over a month away, you can expect more closings, fewer listings, and fewer pending sales in July. In a normal election year, closings would keep tapering from August through January.
Another major shut down and reopening will yield another slowdown and bounce-back. If a second reopening happens in the Fall, the recovery will be less extreme than what we saw in May for two reasons. First, 2020 is an election year and second, fewer homes are listed in the Fall. Expect low housing inventory and high appreciation.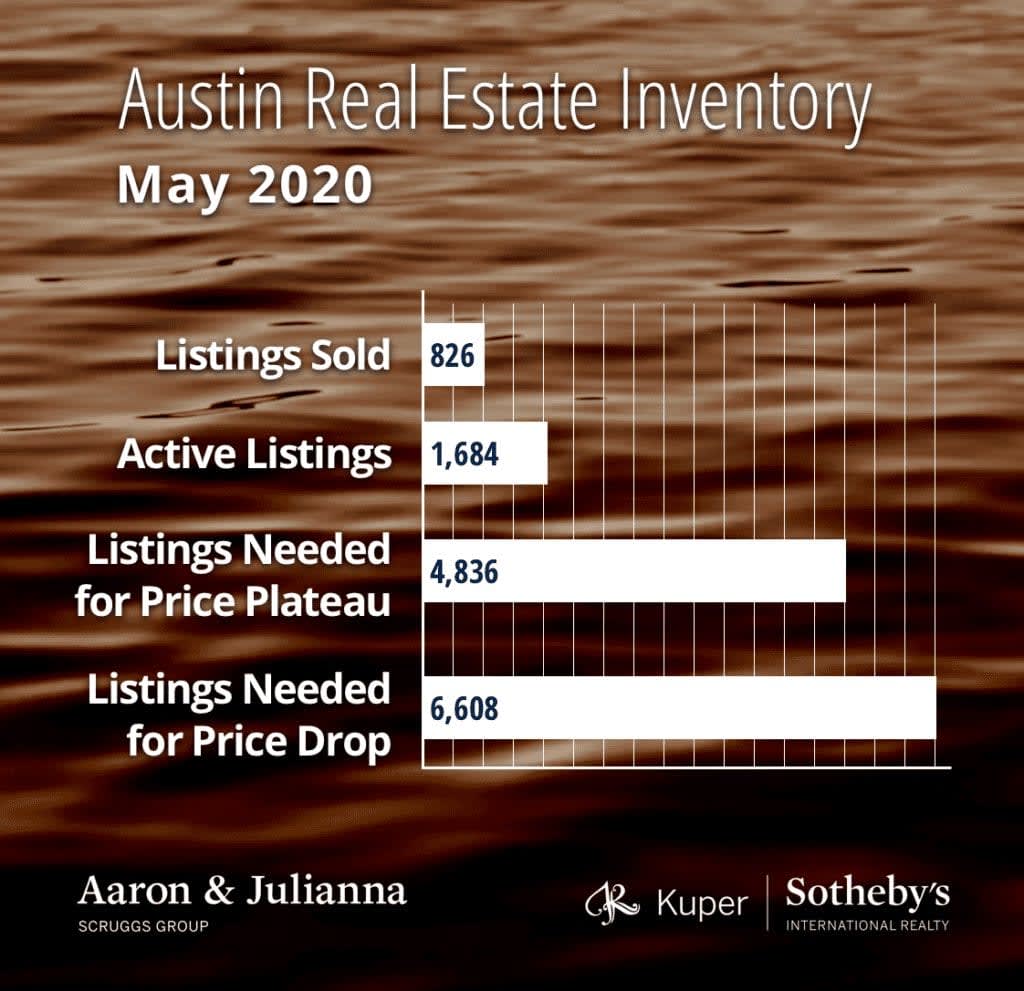 Prices could have flatlined in April had there been 6,608 listings. The number of listings was ¼ of that so prices kept rising.

If sales and new listings remained exactly the same, prices would flatline in 6.5 months. If the spike in COVID cases does not spur another major shutdown, sales will grow, new listings will fall, and housing prices will continue to climb.
In summary, real estate activity increased markedly. Still, we have very low inventory in a month when listings typically flood the market. We're still in an extreme seller's market as a result. Austin's inventory remains extremely low so housing prices will keep rising.
In this environment, it's especially important to hire an agent you can trust to represent your best interests and accurately analyze home values. Without a trusted agent, buyers can become "suckers" in an overpriced sale, and sellers can fall victim to the pitfalls of overpricing. (Overpriced homes sit on the market longer and eventually sell for less than market value.)
Housing market trends are hyper-regional. Many of the trends described in this article are often more extreme or even inverted when you take a closer look at a particular zip code. We want to work with you and give you information that empowers you to make smarter decisions. You may request specific zip code reports via . If you need guidance with any aspect of homeownership, we're here to help you get the best possible outcome.