Mid-year Analysis
Texas Real Estate Center reports that Austin lost 16,300 jobs as of May. From April to May, our city's labor force increased by 3.2%, employing 1,165,000 civilians. Job loss and stay at home orders may both have contributed to lower sales volume in 2020.
Austin sold $2,621,719,744 worth of homes in the first half of 2020. That's 6.2% less than 2019's mid-year sales volume. The shutdown caused a drop in sales while higher prices narrowed the YoY gap.
The average price per square foot for the first half of 2020 was $276, +8.1% YoY. Price per square foot increased by 4.3% YoY last June. Single-family home prices continue to rise, while condo prices are receding. Pricing in these markets is a result of supply and demand, with single-family homes at only 0.97* months' supply.
Job loss and the shutdown may limit full recovery. Still, increased closings, pending sales, and new listings signal improvement throughout the Summer.
June Market Report
Austin's residential real estate market made a huge recovery in June. Total sales volume grew 40% over May, reaching $588,734,232.
Total sales volume was down 2.5% YoY and activity was still high enough to jumpstart recovery this Summer. Closings rose 41%, pending sales grew 22%, and there were 7% more new listings compared to May. Pending sales were up 15% YoY, suggesting increased activity will continue in July.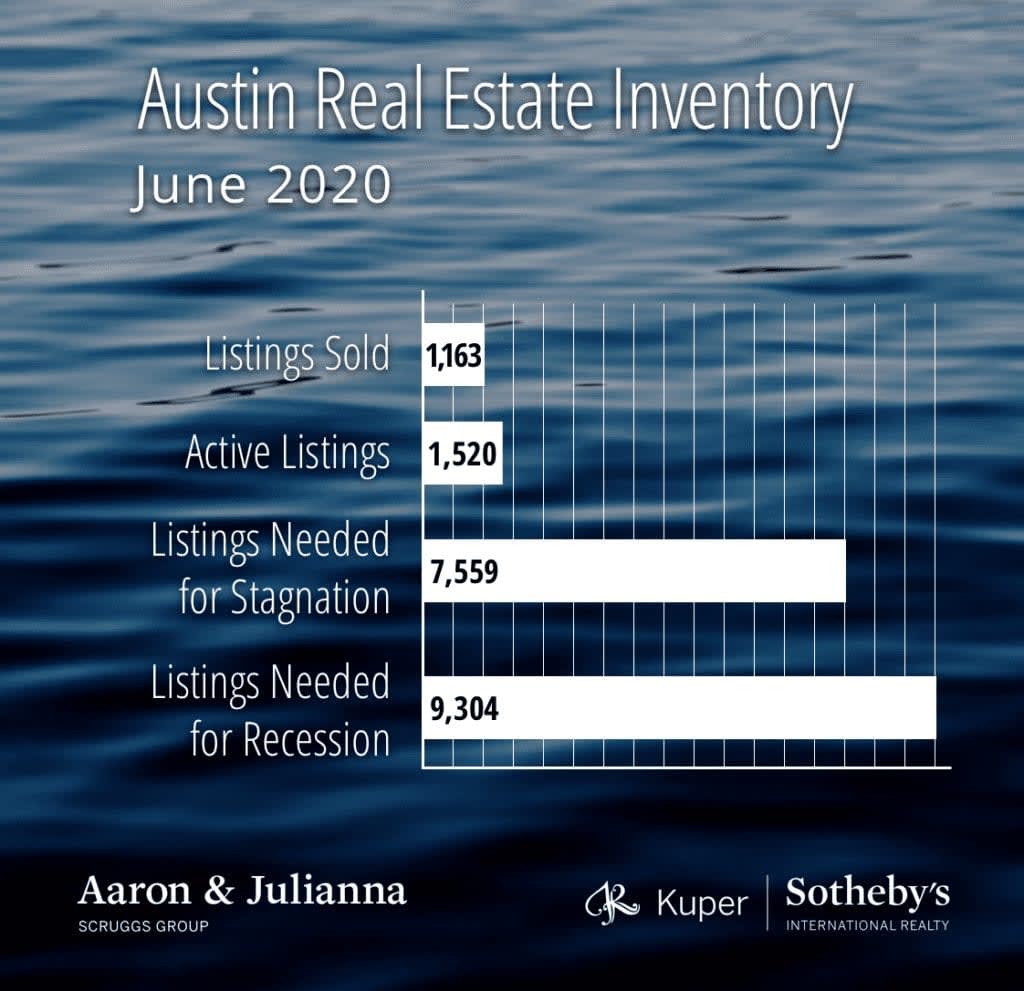 Low inventory for existing single-family homes kept the average price up. High condo and new construction inventory drove median price down despite there being only 1.6 months' inventory.

Inventory remained very low at 1.3* months' supply. Despite this, the average sales price was the same from May to June, at $506K.
The median sales price for single-family homes grew 5.75% but fell 10.83% for all other property types. This change created an overall median sales price drop to $407K; however, month-to-month price reductions are normal.
Downtown inventory (all condos) averaged 5.5* months' supply before April. Since then, there have been 29% more listings and 23% fewer sales, averaging 9.2* months' supply with the median sold price erring 25% lower.
Increased demand and limited inventory raised prices in areas with mostly single-family homes. The following areas had median sales price growth of $100,000+ since May:
North Central Austin (Crestview/Allandale/Brentwood/N. Shoal Creek)
Rollingwood/Westlake
Central East Austin (Cherrywood/East Austin/E Cesar Chavez)
Riverside/Montopolis
St John's/Cameron Rd.
Oak Hill
Oak Hill topped the list at +230% sales price, followed by St. John's/Cameron Rd at +97%, and Riverside/Montopolis with +37.5%. These extreme fluctuations were the result of low inventory and small sample sizes. The surges kept the city-wide average sales price afloat. Still, there were too few surges to offset the drop in condo prices, so the city-wide median sales price fell 3%.
Single-family prices grew but did not spike in 78703, 78704, 78705, and Northwest Hills. Home prices in 78745 and East of Springdale also rose, but remain under $500K.
Whatever your goals are, it's important to work with an agent you trust. For us, trust is about honesty and expertise. If you'd like an in-depth analysis of your home's value or your desired market area, please get in touch. We offer advice for homes at any price point and people at every stage of homeownership.
* We discovered the values provided by ABoR for months' supply were not consistent with their raw data. All months' supply values were recalculated using raw data from ABoR and updated in the text of this article. This value will be derived from raw ABoR data from June 2020 onward.