Austin housing inventory fell to an all-time low in December with only 0.61 month's supply. As a result, the average cost per square foot reached a record-high $384/sq. ft.. The cost of the average condo also set a new record at $593,360. The average sales price for single-family homes crept up to $792,983, still $29K below its peak last May.
In 2021, the average sales price for all homes in the City of Austin grew $113K (17%) to $745K. The average condo price jumped $127K (27%) while single-family grew $107K (16%). Meanwhile, housing inventory hit all-time lows three times last year. The first time was in January with 0.68 months' supply. Then it happened again in March with 0.63 months'. Finally last month, inventory was the lowest it has ever been, with only 0.61 months' supply.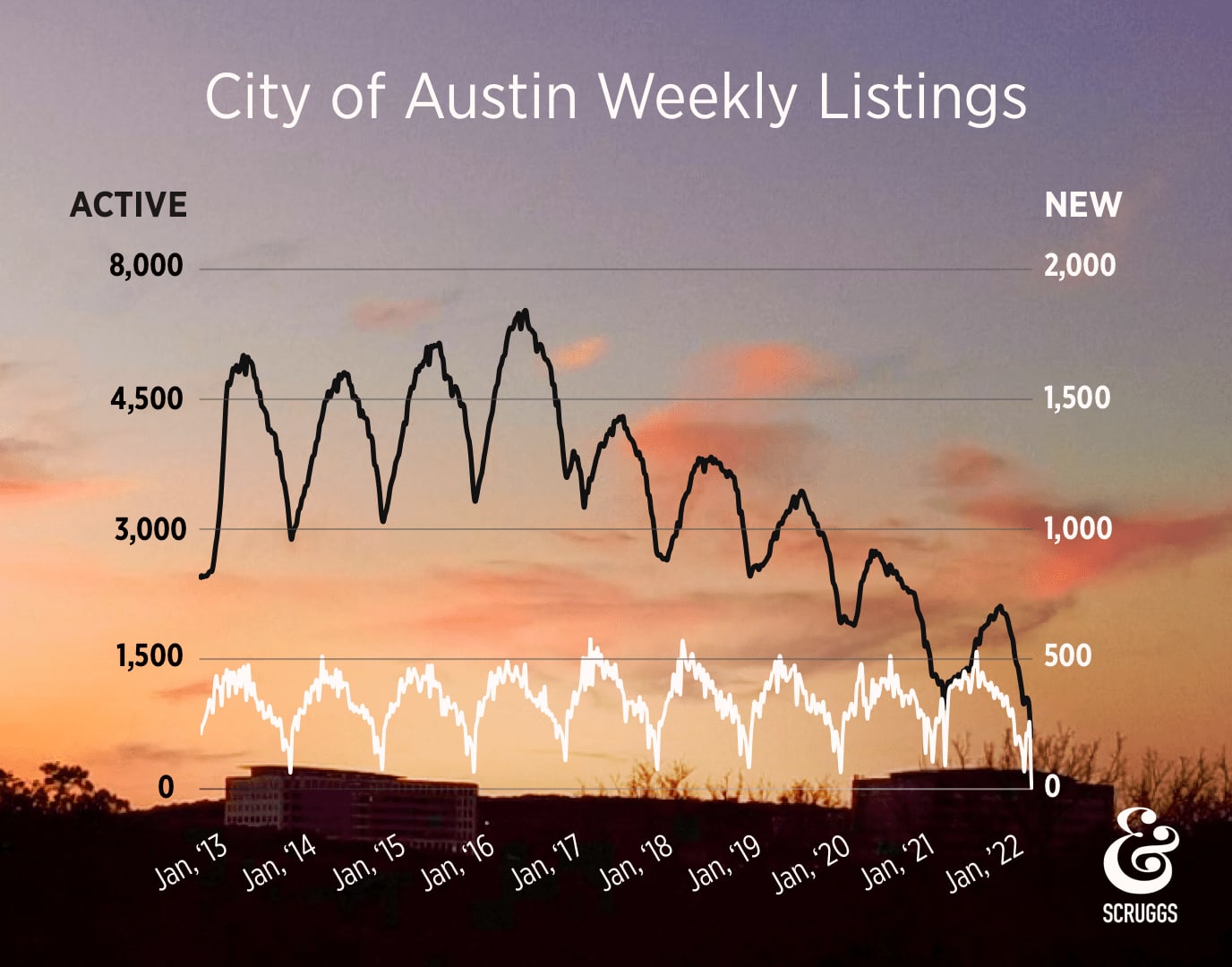 Austin housing prices are skyrocketing because demand has grown for 5-years while the number of new listings remains unchanged. There were 17,837 new listings in 2021. This was almost equal to 2020's 17,833 listings. In 2021, 16,030 homes sold in Austin, with a total cost of $11.38Billion. Although the number of sales only grew 2% over 2020, the total amount paid for Austin homes grew 29%. We closed out 2021 with only 826 homes for sale. That is 27% fewer active listings than December 2020.
The severity of Austin's housing crisis is most visible when we compare 2021 stats to those of 2019. 2021 had 175 (2%) fewer listings than 2019, when demand was much lower. 2021 had 5% more home sales than 2019, but the total cost was 51% higher. The average home price grew $225,500 (50%) from December 2019 to December 2021. The number of active listings last month was 53% lower than two years prior.
In last month's report, we covered how Austin's housing crisis could end. Interest rates are a growing topic of national concern. 30-year fixed mortgage interest rates jumped 0.6% in 2022 so far. Buyers can expect another 0.75-1.0% increase in 2022. Rising interest rates could deter buyers nationwide, and improve national inventory. Higher rates have not deterred frenzied buyers or improved inventory in Austin yet. Instead, it's more competitive. Competition is especially steep in the luxury market, where most sales happen off-market. Data from the Austin Chamber of Commerce offers some insight into why.
According to the Chamber, Austin is the #2 MSA for job growth since the beginning of the pandemic. When the number of US jobs dropped 5.78% in 2020, Austin jobs only dropped 2.85%. When US jobs grew 2.6% in 2021, Austin jobs grew 5.1%. US jobs are still a net negative since the pandemic, but Austin's are a net positive. Austin is also becoming a mecca for remote jobs, with 1-in-5 Redfin buyers now working remotely. Zoning changes are still Austin's best hope for improving supply and affordability.