Austin's new listings outperformed the national average despite the winter storm this February. At the same time, we lost more inventory and gained higher price increases than the rest of the US. Our latest market trends spotlight Elon Musk as the man behind our inventory crisis.
Realtor.com said the winter storm halted new listings nationwide. Austin was the most affected metro area. New listings for the 3rd week of February dropped -87.8% year-over-year. Within Austin's city limits, there were 968 new listings in February (-28.3% year-over-year). 28 of the top 50 largest US metros saw a greater annual decline than the Austin MSA. March's daily new listings are up 18.9% from February, signaling the return of our spring selling season.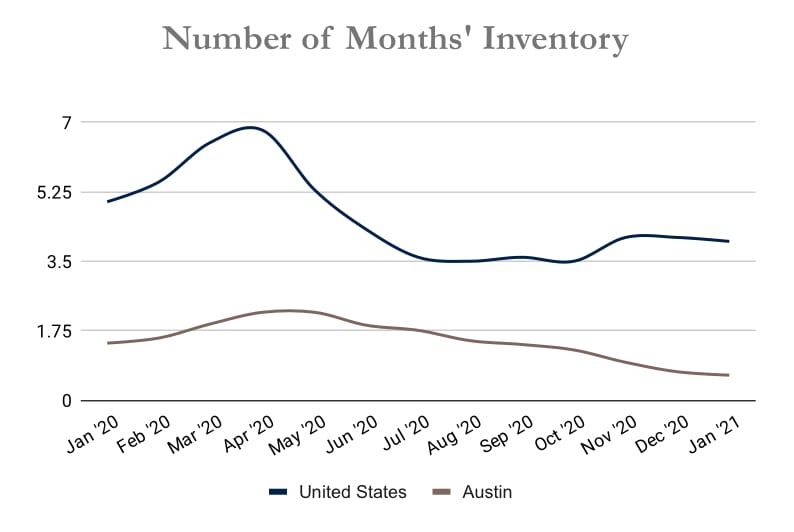 Over the past 12-months, the Austin housing market changed faster than any of the top 50 US MSAs'. We had the #1 decline in active listings, housing inventory, and time that a home spent on the market. We also had the #1 annual increase in prices. At $494K, the Austin MSA had the 13th most expensive median sales price this February.
What makes Austin so special? It started with growing faster than any other metro area from 2010 to 2019. The steady decline of interest rates fueled demand since the pandemic. Low rates incentivize people in more expensive markets to sell and move up-market. From April to October 2020, LinkedIn users moved to Austin faster than any other US city.
In October, Elon Musk incited global interest in Austin when he announced GigaTexas. Apple, Facebook, and Samsung all made moves in the Austin market since October. Then, Elon moved SpaceX, The Boring Company, and himself to Austin. Joe Rogan (who moved to Austin in June) recently invited Elon onto his popular West coast podcast. On the podcast, Elon said, "I think Austin is going to be the biggest BoomTown that America has seen in a half-century."

Elon's public actions and statements have a track record for moving markets. It's no coincidence that demand for Austin housing surged since November.
City of Austin inventory dropped below one month's supply for the first time in November (0.95 months'). January had 0.63 months' supply (-56.2% year-over-year), while February had 0.58 months' supply (-62.7%). Inventory for the top 50 US metros combined fell 41.8% year-over-year in January, and 47.4% in February.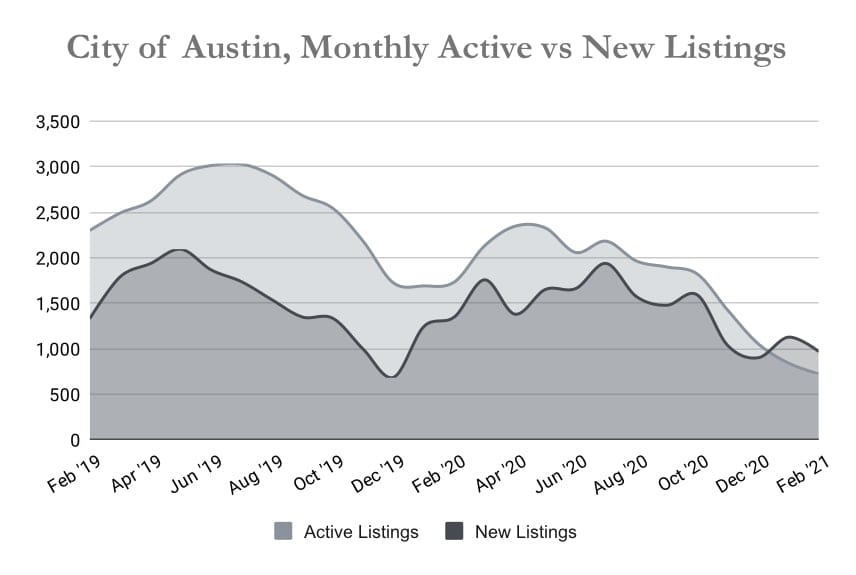 In January, Austin new listings (1,129) surpassed active listings (844) for the first time. This happened again in February, with 725 actives and 970 new listings.

Austin home prices started spiking in November. February's average home price was up $70,284 since then. During that same period, the average price paid per square foot rose 21% to $345. Before November, condo prices slumped while single-family prices soared. Since November, prices are rising for both.

As of January, the average home isn't affordable for Austin's median household income ($97,600). The average sales price for single-family was $660,729 in January (+35.3% year-over-year) and $729,675 in February (+38.7%). The average sales price for condos was $427,205 in January (+14% year-over-year) and $469,350 in February (+17.4%).
High competition helps sellers pay less while earning more and enjoying fewer obstacles. To compete in this market, many buyers offer 13-30% over asking price. Soon, those sales will become comp's and the cost of housing will continue rising. If inventory increases, terms could become more favorable for buyers. Today, buyers often waive several contingencies that would otherwise protect them. Without these contingencies, they need 65-150% more cash available to protect against financial liabilities.
Sellers face the same problems when shopping for their next home in Austin. Services like Homeward and Knock emerged to help homeowners buy their next home before selling their current home. Other options include working with a real estate advisor to remodel, building new, find off-market homes, and negotiate lease-backs.
Despite the competition, homes still do not "sell themselves". 32.3% of Austin listings sold below asking price in 2021 after spending an average of 77 days on the market. On average, listings that sold at or above their list price did so in only 15 days. About half of Austin homes that sold for over $1MM did so above asking price. On average, they sold in 19 days. Those which sold below asking price took an average 114 days to sell.
If the above information raised questions about your home value, please get in touch for free market analysis. Curious what selling in this market might look like? Our listing process and digital marketing expertise leave nothing to chance. Call (512) 265-5025 today for an obligation-free consultation. If you enjoyed this article, please consider sharing it with someone else who could benefit. For bonus educational contact, follow Aaron & Julianna on social media.