Austin's average sale price grew 9.8% last month to $803,900, a 15.3% increase since the beginning of the year. While economic indicators forecast a return to baseline, the Austin real estate market is in high gear. March had 844 active listings, a welcome 15.6% rise from February's record low of 730. In March, there were 1,575 new listings (+48.9% month-over-month), and 1307 homes went under contract (+29.2% MoM). Since January, real estate inventory hovered around 0.6 months' supply but grew to a paltry 0.75 months' in March. As usual, single-family home prices led while condo values saw greater volatility because of their small sample size.
| | | | |
| --- | --- | --- | --- |
| | March Average | March Growth | 2022 Growth |
| Single-Family: | $863,800 | $70K (+8.9%) | $119K (+16%) |
| Condo: | $579,490 | $56K (+10.8%) | $19K (+3.3%) |
Persistently low inventory has led to explosive appreciation. Since the end of 2019, Austin's average cost per square foot has grown by 60%. It grew more in this period than in the 8-years prior (+52%). These staggering appreciation rates discourage homeowners who wish to move within Austin. But there will probably never be a better time to buy and sell in this city.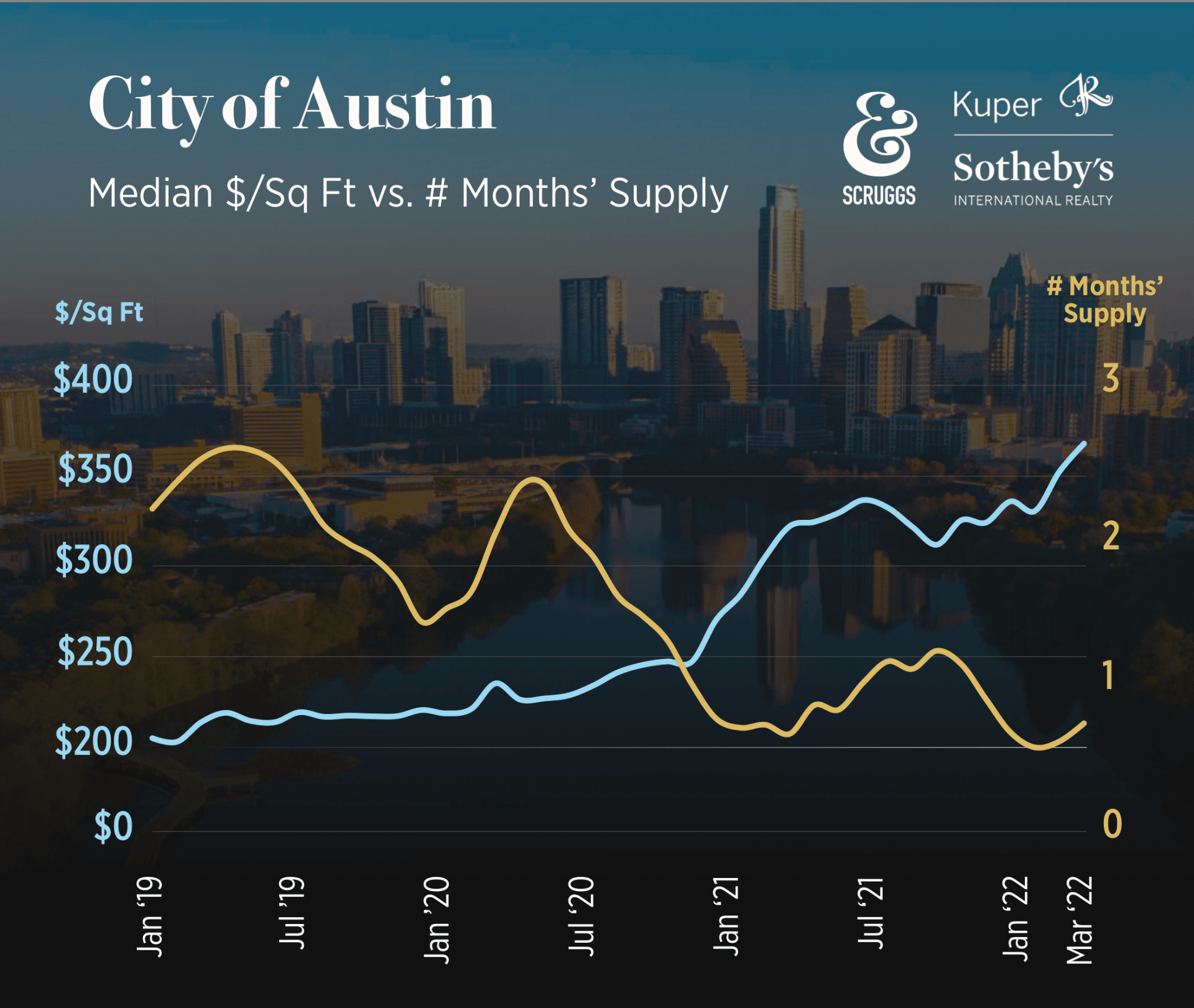 Austin's $81K/year median income can afford a $570K home with 20% down. Existing homeowners can still afford an average-priced home if they sell, but the cost of selling is about to rise substantially. Consider this example of an average homeowner who purchased a home for $533,300 two years ago. They could have sold for an average of $803,900 in March. If they bought another residence of equal value, their property taxes would rise by $2,600 (+25%) in 2023, and they would pay no capital gains tax.
What if that same homeowner waited one year and prices went up another 17%? (That is half the average increase since January 2021.) Their property taxes would go up by $4,837 (+46%) in perpetuity, and they would owe $19,660 in capital gains tax while paying $10K more in transaction fees. On average, waiting to sell would cost $32K. If Biden's plan to raise capital gains tax rates passes, those costs will multiply. Interest rate hikes will further reduce a buyer's purchasing power. For most Austinites who need to move in the next few years, moving this spring could save 40% of a year's salary.
Prices will keep going up as long as the fundamentals of our real estate market make it an excellent place to invest. Our housing market ranks #1 for growth and stability. Our city ranks #2 for economic resilience and opportunity. According to the Austin Chamber, we are the top-performing large MSA for job growth. Austin added 101,700 (+9.1%) jobs in the past year and 71,500 jobs (+6.3%) since the pandemic despite 2020's surge in unemployment. Currently, our unemployment rate is only 3.3%, compared to 4.7% for Texas and 4.1% for the US. If Elon Musk succeeds in buying Twitter and converting their HQ into a homeless shelter, we might become home to another major tech company. Our 40% annual increase in rental rates also supports the resilience of Austin real estate in this chaotic economy.
Most of the inventory we deal with trades outside the MLS. Moreover, list prices and sales prices are rarely ever the same. If you are considering a move, you may wonder what a home like yours (or the one you desire) would actually sell for. You may want to know when is the best time to market your home and what steps you should take to prepare. Whatever questions or thoughts you may wish to share, we'd love to hear from you!