Several years of for Austin's growing population. The shutdown curtailed the usual flood of new listings in March and April. As a result, supply dropped to a record low 1.1 months' inventory in July.
The average sales price grew 7% last month and 15.7% year-over-year, to a lofty $539,871. At the same time, the median sales price rose 4% and nearly 10% year-over-year, to $423,000. Fortunately, buyers can expect a little relief by the end of August.
Housing inventory grows when there are more listings and fewer closed sales. Usually, both listings and closings start to taper off in June. But this year, new listings grew 7% in June, and 16% in July. This July had 20% more listings and closed sales than July last year.
Pending sales went up 22% in June which led 26% more closed sales in July. Pending sales dropped 4% this July, so closed sales will drop in August. More listings in July and fewer closed sales in August would lead to more inventory and a slower rate of price increases. If every month were like July, housing prices would more than double in a year. Austin needs the rate of increase to slow down in August.

There are very few opportunities ever when one can buy a single-family home for $500K, then sell it 29 days later for $540K without any repairs.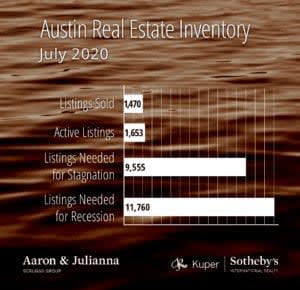 Prices increased 7% in July because inventory in Austin is too low.
That was July in a nutshell. Due to this anomaly, all signs point to record high appreciation by the end of 2020. Thus, all homeowners should consider in 2021.

We'll see lower inventory, even higher prices, and fewer transactions for August. Home prices will continue to rise in September, and market activity will taper off. If you're considering buying your first home in the next year, you will get more bang for your buck the sooner you do. Thankfully, prices will not likely increase as they did in July.
There are very few "deals" available unless you're flipping houses. However, 78701 statistics indicate that some motivated sellers are willing to take a hit. Overall, expect a fantastic return if you're listing your home right now. Moving now will cost less if you're buying something more expensive than your current home. If you plan to downsize, waiting could land more money in your pocket. Feel free to if you have any questions about this information.
Buying and selling during Covid-19 should be a safe experience. See our blog post to learn about how to . Scruggs Group uses a proven system to market and sell your home at the best possible price. Our goal is to provide you with the best real estate experience you've ever had. to see how we're doing. Whatever your real estate needs are, we'd love to help, so please .